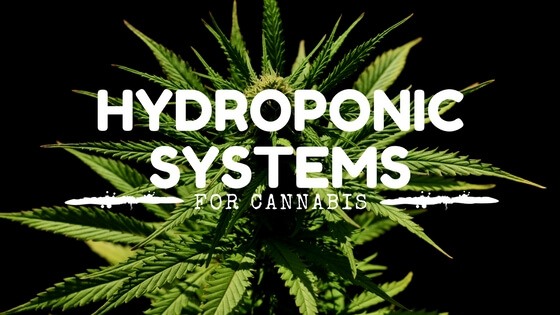 Hydroponics systems for growing cannabis imply the growing without the use of soil. The plant root system obtains nutrients in a water-based growing medium instead of the getting them from the soil.
Hydroponic grow system helps you grow weed much faster than you would otherwise grow in a traditional soil system. It's true that growing hydro weed is more difficult to deal with, but once you master it, you will be able to grow considerably larger crops with little effort.
The first step is selecting a hydroponics system and hydroponics kits that would fit your needs. If you are a hydroponics newbie, fear not! There are a lot of hydroponics systems for beginners, which makes the shopping less stressful.
Top Hydroponic Systems for Growing Cannabis
There are a number of hydroponic systems for sale to choose from, and they come in different sizes, designs, and price points. Below, you can see the reviews of top hydroponic systems.
10 Best Hydroponic Systems for Cannabis
This cost-effective and easy-to-use and hydroponic kit comes with a 6-inch basket lid, a 5-gallon bucket, a growing medium, an air stone, an air pump, as well as Rockwood seed starting plugs. So, you get everything needed for running indoor hydroponic systems. All in one grow box!
What sets this product apart from the rest is a bucket drain and a water level indicator. It is particularly suitable for larger sorts of cannabis. Maybe it seems a bit costly for one bucket and takes a bit more space in a grow room, but in turn, you will be able to grow high-quality humongous strains such as Brian Berry Cough and Big Bud.
Although this dwc setup is often used by experienced cannabis growers, it is also a great choice for beginners wanting to grow deep water culture cannabis for the very first time.That's because it's fairly easy to put it together and use. Deep Water Culture Bucket Kit grows plants quickly throughout the year. This is another reason to choose this system.
Note: It may irritate the skin when Rockwool is dry. That's why you need to wear gloves when handling this dwc system until it is moistened properly.
It comes with a one-year manufacturer warranty.
Key Features
Complete hydroponics starter kit
Includes growing medium
Comes with an air stone, air pump, air tubing, and basket lid
A big 5-gallon bucket
Rockwood plugs
Bucket drain to remove the water easily
Water level marker on bucket
Lightweight (weighs about 8 lbs)
1-year warranty
If you are looking for a top-quality modular hydroponic system to start growing marijuana indoors, look no further. General Hydroponics Waterfarm is exactly what you're looking for!
This hydroponics growing system comes with a two-gallon container reservoir and complete watering system. Plus, you'll get a smaller basket container, an air pump, an air tubing, an air stone, clay pellets, and nutrients. The buckets included in this system are almost completely square, which lets them hold a few larger size plants at the same time. In fact, it is capable of holding at least 4 large plants at a time.
Regardless of the size of your plants, as this system can grow the cannabis plants of all sizes without any problem. What's more, each of the units provided can be linked into a bigger configuration.
General Hydroponic Waterfarm is perfect for beginner growers. Most users find this product easy to maintain and clean. Even though this item is pretty inexpensive, it provides quality performances and can last a long time.
Key Features
Can handle large, medium, and small plants
Unique square design
Well-constructed for long service life
A 2-gallon container reservoir
Includes nutrient packs
Can create large installations and high-density
Water level marker on the bucket
Lightweight – it weighs 12.5 lbs.
Cheap
If you are seeking a hydroponic bucket system to grow more plants at once, grab this one and yield the most! It allows you to grow healthy and big plants at a fast rate.
All you could ever need to start off a hydroponic system for growing cannabis comes with this model. That said, it comes with an electrical air pump with a 6-way divider, six 3.5-gallon buckets with net pot lids, a 10L bag, and premium airstones.
Clay pebbles come in a huge bag, providing a sufficient amount to load your nets. The air pump is quite large to run 6 hydroponic buckets. However, this means the system is noisy, which might catch some by surprise. Also, keep in mind that the air stones are not big enough for growing larger plants with a lot of oxygen.
We recommend this practical system for both experienced weed gardeners and newbies in the world of hydroponics.
Key Features
Includes a 10-liter bag of clay pebbles
Comes with an electrical 41-W air pump
Includes low-profile buckets, net-pot lids, air stones, and air tubing
Can handle 6 medium plants
Easy to use
Simply to maintain
Weighs about 31 lbs
Put your weed on autopilot and let the gravity do all the work! Yes, it's possible with this 4-pot hydroponic system. No timers, pumps, or electricity are required to run this system.
Another great thing about this system is its ability to extend, allowing you to link several pots in one reservoir. Even better, AutoPot 4-pot system can easily adjust to new conditions, meaning you can use it for different growing environments.
To make more room, this hydro setup only delivers nutrients when the plants have used enough in their own pots. This requires minimal monitoring, which is especially useful for beginners. It's very easy to grow hydroponic weed in this hydroponic system. All you need to do is put liquid feed along with water and this amazing system will basically operate all by itself.
The only thing you should watch out is the level of contamination in the main reservoir. Don't let your plants suffer!
Key Features
Unique gravity-fed automatic watering system
No pumps and electricity are needed
Includes four 6.6-gallon pots with lids, four trays, a 12-gallon reservoir, and a filter
Extendible design
No nutrients and no grow media are included
Minimal monitoring and maintenance
Easy to put together and use
Unlike standard hydroponic systems mentioned on this list, the Rainforest Aeroponic system oxygenates the nutrients and water before it sprays a fine mist over the root systems or cutting bases. Actually, this hexagonally shaped device is designed as a hybrid aeroponic and DWC system.
It features all-in-one system with an all-inclusive big container that provides everything needed to grow hydroponics weed. Aside from a large 17-gallon reservoir, this unit comes with six plastic containers, CocoTek liners and caps, a sprayer, and a three-part Flora Kit. The reservoir is continuously being recirculated and aerated, so air stones, timer, and air pump are needless.
The Rainforest Aeroponic system is meant to hold up to 6 growing mediums with large-sized plants. That allows you to grow various plants at a time. It is great for cultivating and propagation of bigger well-established cannabis plants. You can use it either indoors or outdoors.
There's one consideration when using this system. Be sure to isolate it from pests to prevent cannabis parasites (like aphids) from developing. Also, consider the size of the pots; keep in mind that they only have 6 inches in diameter.
Key Features
High tech aeroponic system
Super compact design
Comes with a 17-gallon reservoir
No air stone, air pump, or timer is needed
Suitable for growing medium to larger plants
Great for seedlings, cloning, and cuttings
It is easy to use
No warranty
Here's one product for those growers looking for an ebb and flow hydroponic system. Despite comprising an area of 3′ x 3′, it can handle many weed plants at once. Coming with a bulky growing station, this system can cultivate up to 16 cannabis plants with ease.
Viagrow Ebb and Flow system is actually a 20-gallon reservoir hydroponic kit equipped with a potting medium, tubing, pump, timer, tray and stand. It includes a total of 25 one-gallon pots, which can be replaced with the larger ones if needed.
Thanks to its relatively small size, this hydroponic growing system fits well inside most grow rooms. By the way, it doesn't make a maze of buckets and tubes around the plants like some hydroponic systems for weed.
This automated device delivers the ideal amount of nutrients, water, and oxygen to the plants, which results in rapid growth rates, enhanced nutritional value, high yields, as well as better flavors and fragrances.
Key Features
All-metal system with sturdy and strong construction
A 20-gallon reservoir
25 one-gallon pots
Can handle up to 16 cannabis plants
Efficient and simple operation
Automated ebb and flow method
Compact design
Expensive
Looking for an ultimate all-inclusive grow system for your cannabis garden? Maybe Hydrofarm's Megagarden system is just what you are looking for.
This Ebb and Flow flood-and-drain irrigation system lets you grow up to 15 plants easily. It comes with 15 five-inch grow pots, a 7.5-gallon reservoir, pebble and fired-clay grow media, timer, pump, water level indicator, a bottle of nutrients along with starter cubes for clones, and pH testing kit.
Here's how this system works. The nutrient solution goes from the reservoir to the water tray by means of a submersible pump. There's a timer for controlled watering, which ensures that all the plants are irrigated uniformly during the timed cycle. As a result, it provides the plants with optimal moisture for strong, healthy roots.
Whether you're a professional or beginner, this marijuana grow box system will help you grow your plants faster and easier than ever.
Key Features
Comes with 15 plastic grow pots
Features a 7-1/2 gallon reservoir
Compact design
Great for beginners
Easy to drain
Inexpensive
With this hydroponic kit, you can grow a variety of plants without the use of soil all year round. You will love its compact design, good-looking appearance, and energy-efficient LED light.
Aerogrow AeroGarden comes with a herb starter kit, including the following herbs: Cilantro, Genovese Basil, Dill, Chives, Mint, and Curly Parsley. Of course, you can replace these herbs with cannabis plants. You will also get 3 ounces of liquid nutrient to immediately start off with planting.
Make sure to use the proper combination of plant food and water, as well as proper lighting level, for the best results. That will eventually make your plants thrive and grow much faster than in any soil solution.
Key Features
High performance
Compact design
20-Watt LED lighting
Includes 6-Pod Gourmet Kit
Easy-to-use control panel
Easy to set up (no tool is necessary)
Comes with 3 oz. liquid plant food
This mini hydroponic system stands out from the rest because of a betta fish that fertilizes the herbs on top. It is equipped with a filter that cleans the water and thus makes a sustainable environment for the fish. So, it is one-of-a-kind mix of aquarium and hydroponic system unique on the market.
You get everything needed for a small garden – a 3-gallon fish tank, submersible pump, radish sprout seeds, organic wheatgrass, natural fertilizer, fish food, grow stones, gravel. In addition, it includes a fish and a coupon to obtain a betta fish.
This is a great choice for beginners in need of a small hydroponic system to grow cannabis plants for non-commercial home use. It lets you simultaneously foster a healthy herb garden and fish in a unique way.
Key Features
Unique combination of hydroponics and aquaculture
3-gallon fish tank
Self-cleaning, low-maintenance cycle
Quiet operation
Compact, smooth design
Affordable price
Growing marijuana hydroponically with this system is a unique experience, as it holds up to 48 plants. In fact, you can control from six to forty-eight plant sites, depending on how much space you have for expansion in your grow-op.
Unlike most hydroponic grow systems, this Hydrofarm Active Aqua system allows for an ongoing drain and flood cycles, boosting the oxygen levels in plants to the fullest. Also, the reservoir doesn't have to be placed under the plants like in the most hydro systems.
It comes with 12 easily movable hydroponic pots, but you can expand it to up to 48 pots as mentioned above. The system uses gravity and two pumps to drain and flood the plants. There are also hoses and fittings for the high-quality water supply without leakage.
The best part is yet to come. Don't worry about your plants and water mess if the float valve breaks down or stops operating for some reason. There is additional shut-off valve which will shut down the system automatically. No spillage and no damage to your grow-op.
Key Features
Expandable to 48 pots
Can grow big vegetation
Ongoing drain and flood cycles
Comes with a controller
Includes FloraGro, FloraMicro, and FloraBloom nutrients
Two pumps
Emergency shut-off valve
LED indicator
What to Consider When Buying a Hydroponic System
With all these great options out there, it could be intimidating to choose one. The following factors can help you make the right decision.
Why Grow Weed hydroponically?
More and more home growers opt for hydroponic systems because this solution offers a superior growing. There are many reasons why people decide to grow cannabis hydroponically. In contrast to soil growing, nutrients go directly to the roots of cannabis plants. This way, hydroponics lets plants reach their full genetic potential.
Still not sure why use hydroponics rather than soil? Here are some advantages of growing hydroponic weed:
Hydroponic weed systems are easy to maintain.
No soil means no soil-borne diseases, no weeding, and fewer pests and insects.
Continuous year-round growth cycles
Better control of growing environment
Higher growth rates
Bigger plants
Engaging and creative
All-In-One Systems Vs. Separate Hydroponic Kits
There is a lot to purchase if you choose to create a hydroponic marijuana system from scratch. You'll have to buy a growing medium, grow beds, reservoir, pots, pH adjusters, nutrients, and  much more. The extra costs and hassle associated with purchasing each of those components separately could be pretty daunting.
On the other hand, buying an all-in-one hydroponic setup is more cost-effective and much easier alike. Whether you are an expert or a beginner, those systems will work for you. Of course, you will also need to buy some basic things to grow marijuana in a hydroponic garden, such as lamps, ventilation, timer, seeds or clones, and so on. It goes without saying. But you will significantly cut down your costs with all-in-one solutions.
Which System/Type to Choose?
There is no wrong or right hydroponic system to go with. Each runs on much the same premise – feeding specific nutrients to the herbs through a certain system. Some of them work better for full-scale grow ops, whereas others are better suited for small-time growers.
Based on the working principle, they are categorized into the following types of hydroponic systems:
Deep Water Culture (DWC hydroponics)
Ebb and Flow
Oxygen Pot Systems
Continuous Flow Systems
Drip Irrigation Systems
Nutrient Film Technique (NFT)
Aeroponics
Which Growing Medium to Use?
There's a wide range of growing mediums you may utilize in place of real soil. Here are a few popular choices you can use for hydroponic growing systems.
Peat – A popular base that is cheap yet full of minerals. It comes as humus or peat moss.
Sphagnum moss – A more expensive solution but it's proven to work better for most hydroponics. It is very lightweight and can hold plenty of water.
Coco coir – A growing medium made of chopped coconut husk. It absorbs and keeps water surprisingly well.
Rockwool (mineral wool) – A fiber-based growing medium that cames as slabs or cubes. It retains water while allowing air to reach the plants' roots.
In addition to these growing mediums, some weed growers also use HEC pellets and Vermiculite. No matter what growing medium you use, make sure to check if the particular hydroponics kit is compatible with it for the best results.
The Reservoir (Bucket)
When choosing a cannabis grow system, bear in in mind:
What is the size or capacity of the reservoir? It needs to be as large as possible. Pick one that can supply at least one week of nutrients.
Does it contain a lid? You will lose a lot of water without a lid due to evaporation.
Is it sturdy? To control the temperature, you may want to insulate your reservoir with foam rubber. It's also recommended to elevate it by means of a few bricks for better air flow. That's why your reservoir should be sturdy enough.
Where will you place the reservoir? Be sure to locate it near to your water source.
The Bottom Line
Only you can make a final decision when choosing which hydro setup is the best for your crop. It will depend on lots of factors. Are you a handy grower? How much money would you like to spend?  What strain are you planning to grow? How much work and effort are you ready to put in your growing system?
Once you have picked your hydroponic system, make sure to use and maintain it properly. Mastering growing cannabis in hydroponic systems is a long process, but it's worth effort.
The team at LEDGrowLightsHQ.com is composed of expert cannabis writers and enthusiasts, many who frequent small grow operations for recreational purposes. We often provide insight from our partners or large publications or magazines.